Provocative Marilyn Monroe sculpture to return to Palm Springs—and the arts community is not happy about it
A plan to install the kitsch work in front of the city's art museum has raised complaints from the community, which has called Forever Marilyn "blatantly sexist"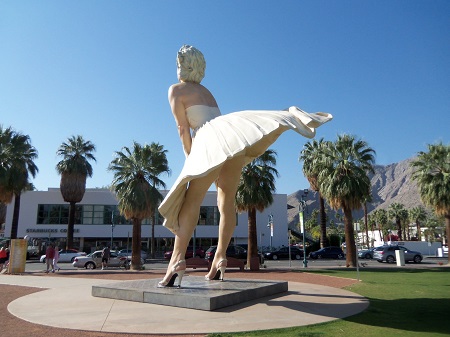 A controversial 26-foot-tall Marilyn Monroe sculpture that once graced downtown Palm Springs, California is due to return, to a new location in front of the Palm Springs Art Museum. The kitsch work by the artist Seward Johnson, which has popped up in other cities across the US over the years, depicts the famous moment from Billy Wilder's film "The Seven Year Itch" when Monroe's white skirt gets blown up by gusts from a sidewalk grate. When it was first shown in the California desert town, from 2012 to 2014, Forever Marilyn was a popular tourist attraction, with many visitors posing for photographs between the statue's feet. But its return is seen as an embarrassment to the feminist movement and the local art community, and the art museum's director has spoken out against it.
한때 캘리포니아 팜스프링스 시내를 장식했던 26피트 높이의 마릴린 먼로 조형물이 팜스프링스 미술관 앞에 있는 새로운 장소로 돌아올 예정이다. 수년 동안 미국 전역의 다른 도시에서 튀어나온 예술가 시워드 존슨의 키치 작품은 빌리 와일더의 영화 '7년 가려움'에서 나온 유명한 순간으로, 먼로의 하얀 치마가 보도 격자로부터 돌풍에 의해 폭파되는 장면을 그렸다. 캘리포니아 사막 타운에서 처음 선보였을 당시인 2012년부터 2014년까지 포에버 마릴린은 동상의 발 사이에 사진을 찍기 위해 많은 방문객들이 포즈를 취하며 인기 있는 관광 명소였다. 그러나 그 반환은 페미니스트 운동과 지역 미술계에 당혹스러운 것으로 보여지고 있으며, 미술관 관장은 이에 반대하는 목소리를 냈다.
Last week, the Palm Springs City Council held a meeting to discuss a proposal by P.S. Resorts, a consortium of local hotels, to bring the landmark back and place it across the entrance from the Palm Springs Art Museum. Some thought it would help promote awareness of the oft-overlooked instutition, but the museum's executive director Louis Grachos disagreed, and tried to dissuade the council from approving the installation. "You come out of the museum and the first thing you're going to see is a 26-foot-tall Marilyn Monroe with her entire backside and underwear exposed," Grachos pointed out. "We serve over 100,000 school-age children that come to our museum every single year. What message does that send to our young people, our visitors and community to present a statue that objectifies women, is sexually charged and disrespectful?"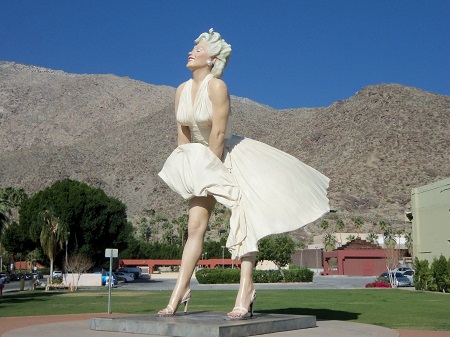 The council passed the measure anyway, stirring up protests from artists, designers, and former museum directors and curators who published a joint letter in the local paper The Desert Sun on 19 November, calling the statue "blatantly sexist". The work's proposed installation site would also block access to the institution on Museum Way, which connects to the busy artery of Palm Canyon Drive. One signatory of the letter, the artist Phillip K. Smith III, asks: "If the sculpture has to come back, can we find a more sensitive location for it?" 의회는 어쨌든 이 법안을 통과시켰고, 11월 19일 지역 신문인 사막 태양에 소녀상을 "성차별주의자"라고 부르는 공동 서한을 발표한 예술가, 디자이너, 전직 박물관장과 큐레이터들의 항의를 불러일으켰다. 이 작품의 제안된 설치 사이트는 또한 팜 캐년 드라이브의 분주한 동맥과 연결되는 뮤지엄 웨이(Museum Way)에 있는 기관에 대한 접근을 차단할 것이다. 편지의 서명자인 예술가 필립 K. 스미스 3세는 "만약 그 조각품이 다시 돌아와야 한다면, 우리는 그것에 대해 좀 더 민감한 위치를 찾을 수 있을까?"라고 묻는다.