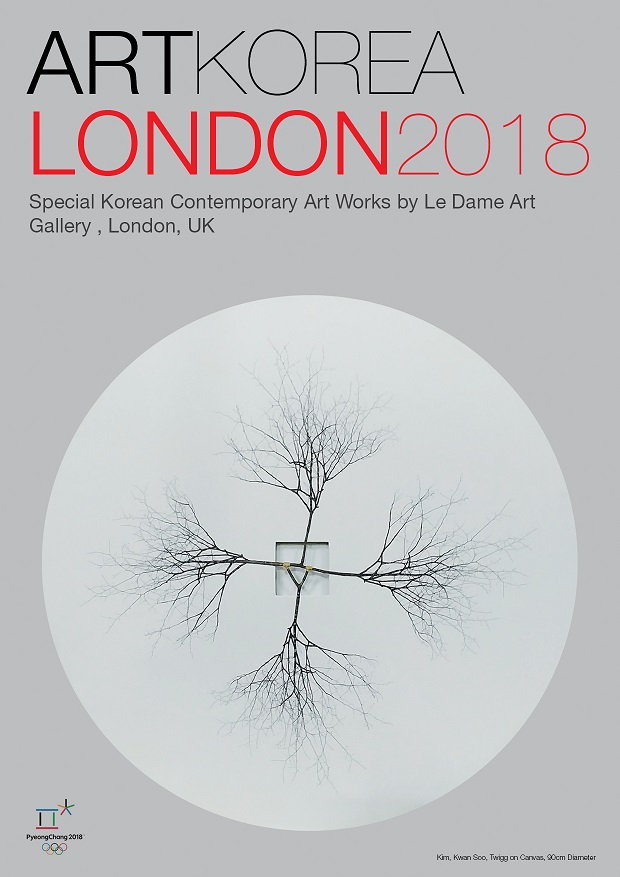 ARTKOREA
LONDON2018
Le Dame Art Gallery , London, UK
Special Korean Contemporary Art Works
Feb 14 - 28 , 2018 / During the PyeongChang Winter Olympic 2018, Korea
VIP Open Reception / PM.6:00-9:00 14,Feb
Support / Melia White House Hotel
Co- Organizer / Cristina,Cellini Antonini
Le Dame Art Gallery, London UK
Alvin Lee, Bung Lyol
IACO, Seoul Korea
In 2018,3rd editions, especially it will takes place during PyeongChang Winter Olympic,Korea, so we are extremely pleasure to show a wide range of contemporary artworks as titled "Artkorea London 2018" that consecutively has been since 2016 hosted by Le Dame Art Gallery, London, UK. collaborating with IACO Korea, both they not only have same philosophical thought and aim for supporting the artists but also keeping strong relationship through many years. It's considered to be the most distinguished artists who are representing of Korea, a diverse way in contemporary visual art with extraordinary skills and methodical creativeness inherited from a depth of oriental spirit and meditation.
The view point of aesthetic values are critical issue of hybrid concept from nature to human being etc. hence, that certainly offers a rare chance to audience of UK, who can enjoy more closely looking at Asian uniqueness and oriental contemplation by meditating.Take this opportunity, for those we wish they could have an achievment aftermath the event in UK globally, and we anticipate that not only will brings some cardinal informations to the Korean artists through the special exhibition but they could have an enhancement in their artworks by exposing at Le Dame Art Gallery, centre of London in order to jump into the world class artists, they all are in acting vibrantly at the competitive stage and global art markets as well, so we believe that their wishes are optimistic and prosperous.
Presents IACO
Participating Arists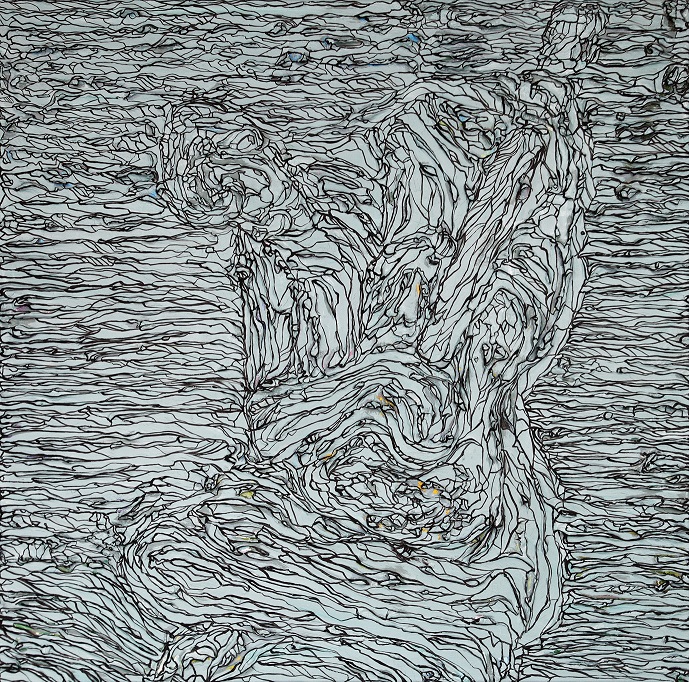 1.Park, Si Yu / Guitaist,91x91cm, Oil on canvas
She puts a ray of light and a moment of a rest in her painting for office workers that are very tired all the time, like mothers who devote themselves to caring for their babies...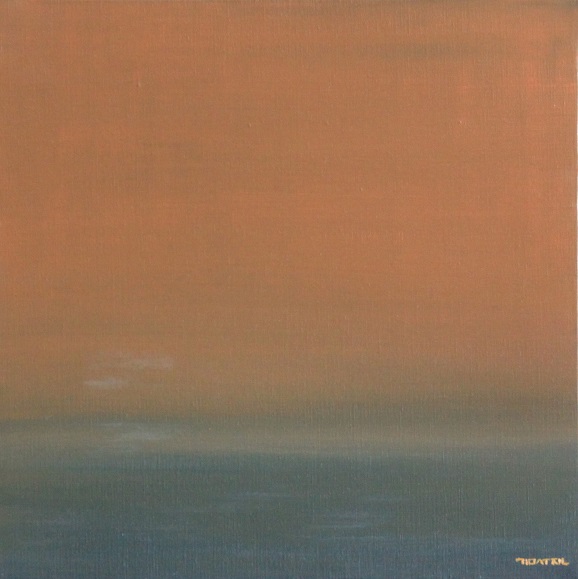 2. Kim, Su Jin / Window of thought,53x53cm, Acrylic on canvas 2017
She used a ideological formative technique in reflecting her world of consciousness. Based on the sound and realistic power of description, she incorporated it has seen facts and conscious world into one perspective, which was a dual screen configuration...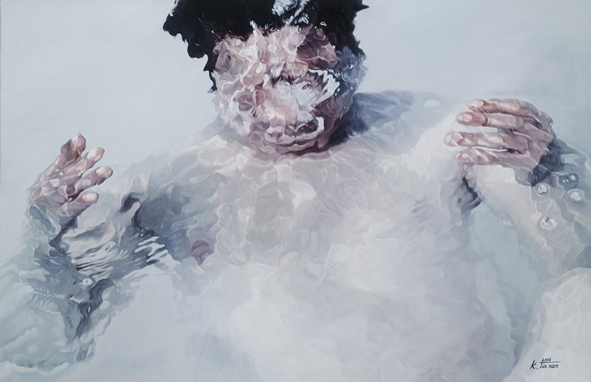 3. Kim, Jin Nam / Sign-4,90,6x60,6cm, Oil on canvas 2017
Based on the main theme of consciousness of feeling 'I defined and I do express a psychological process that occurred in relation to some of outer in body, that is, I would like to investigate 'inner psychology of human being' through the outer relationship of human being' which is look so opposite of between affirmative and negative by

surrounding and unfolding of the effect on reflecting of water, which is contradictive...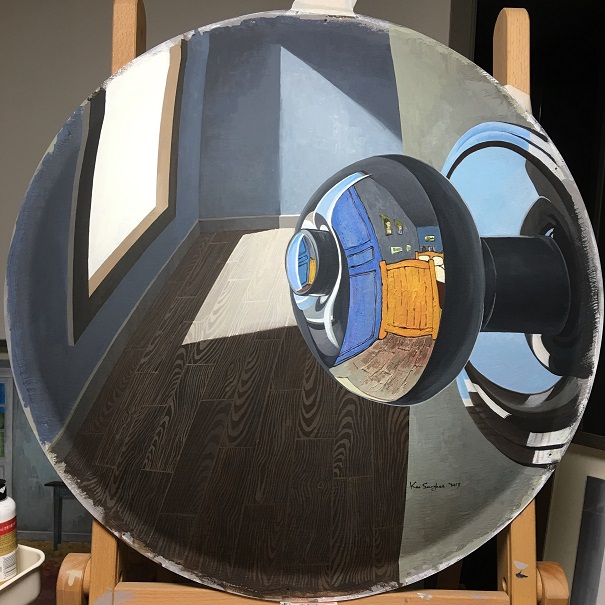 4. Koo Sang Hee / Convex-Mommage to Gogh1, 90cm diameter 2017
The collection is based on what we can find in the surveillance camera: a
distorted image of our city. A city can be reconstructed with the videos that are
being recorded, where we are always being watched; we are always locked up
in a cage of cameras. After a certain point, we kept monitoring the entire city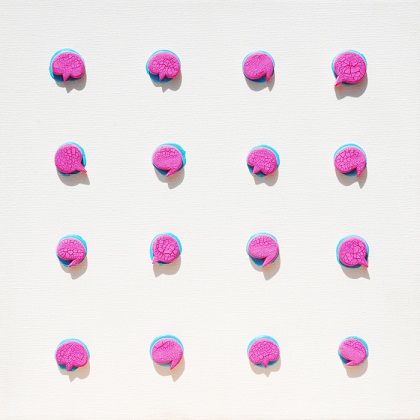 5. Ho Jin / Good think, 60x60cm, ceramic with paint on canvas 20117
An innocent of childhood, very first time, heart..
Artist who is used to make a thought which take a long time, a tiny thinking by shaping of clay, that become put in one of sign painted and roasted by favorite colors with his hand. Also he put into the clay his mind by playing and thinking his thought.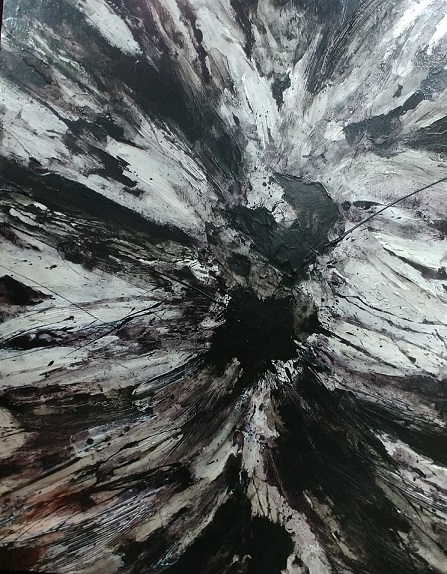 6. Huh Chung / Trace-1, 73x61cm, Acrylic on canvas 2017
The artist looks back into "existence" and organizes phases out of his deepest memories, as he randomly places them on a framework, a screen.
The purpose is to frame an image, buried deep inside the memories of the artist. His canvas
is

often a richly layered medium with brush strokes using various random techniques such as dripping, staining and repainting.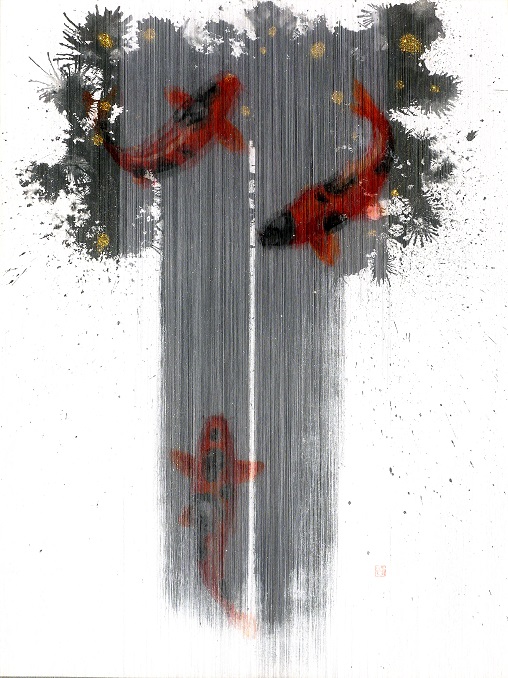 7.Lee Seoung / 811, 116x91cm, paint on thread 2017
The body of my works is impressing an oriental philosophy and the sense which based on western painting concept. I draw oriental beauty of space at any object by using silk threads on line frame. By making layer and imply that on line(
線

) with space(

空

) through my perspective, line and space both means the oriental aesthetic...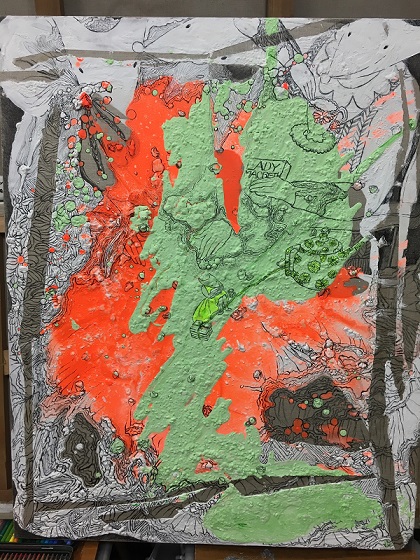 8. Cho Myung Hee / About time, 73x92cm, Mixed media on canvas board 2017
These stains show the movement of the materials with the times. The flow of material crosses the plane and it is squeezed out of the grooved space. If the smooth space is dug out, the flows would be concentrated into one place. And we previously the shown movement is awake to change the speed and direction. Being groove is dug out deeply morals and custom, as well as physical symptoms by law to women...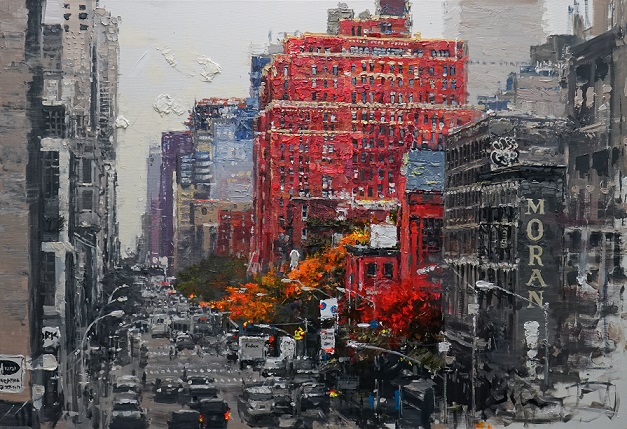 9. Lee Ik Ryeol / Story of Newyork city, 72,7x90,9cm, Acrylic on canvas 2017
The invisible urban system is represented as a an iconic image of visible architecture in the sturucture of painting method. In other words, the images of an impressive city translate into architectural imagery as an methaphor in manifestation of his desire. He remains in the category of realism but not conventional impressions that show very differently the stage of light and shade. Therefore, This is not the object of painting, but the object of painting as urban impressions...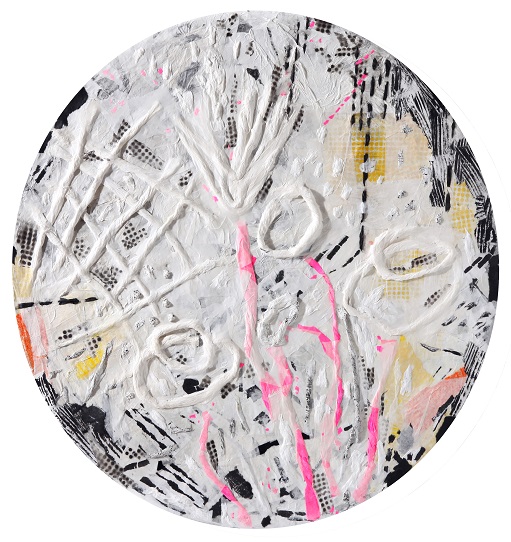 10. Han Young Sook / Garden of mempry2, 90 diameter, Mixed media on canvas 2017
Things are as a being but vanity, ecstasy, that is, all the things are merely a being like smoke, a day life flows in memory that accumulated in my life, things are absolutely being, which may either be a placement itself, or abandon into time and space repeatedly as usual, facing to awakened myself...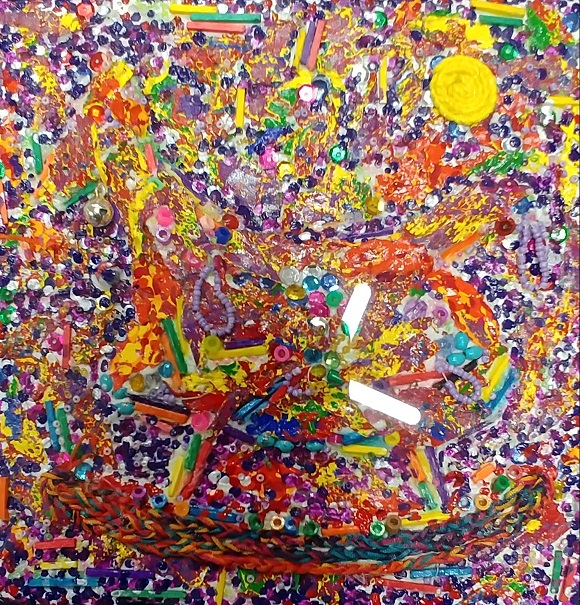 11. Kim Sung Hye / Oriental light 72,7x60,6cm,Acrylic, fabric on cnvas 2017
There are many kinds of materials in the world like garbage, however, particularly at the industrial present, which is divided into valuable things and useless things selectively by people. As an artist I recognized among them which is suitable for art materials, despite of the sorts of clarification...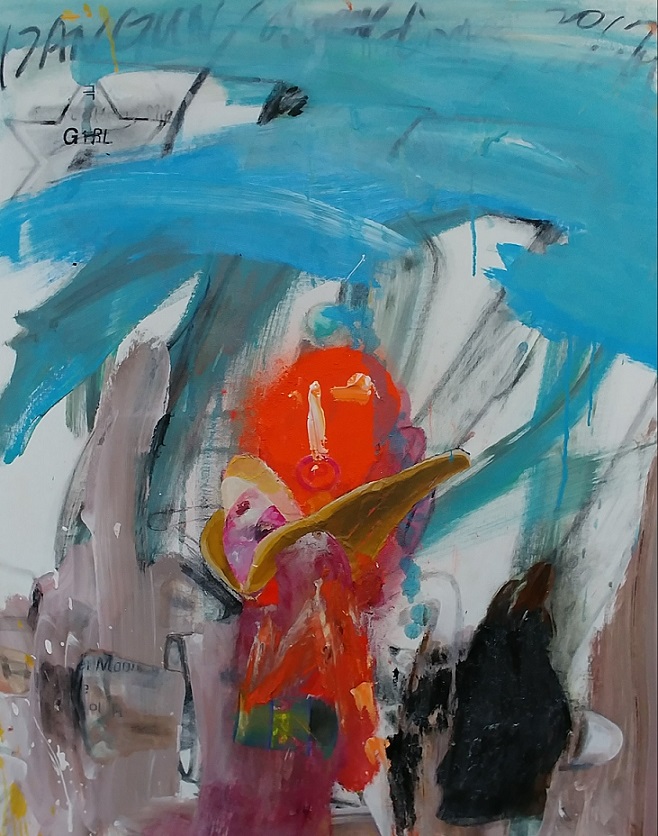 12.Cho Kyoung Ho / Untitled-1, 72x97cm, Acrylic on canvas 2017
To be honest, there is nothing to afraid to conserve its behaviors of brush strokes by moving up and down, toss and turn, twist and twining spontaneously, I would rather just only push my finger as I want to, toward on the canvas where I merely touching, pouring, stain, dropping the colors without any order and plan.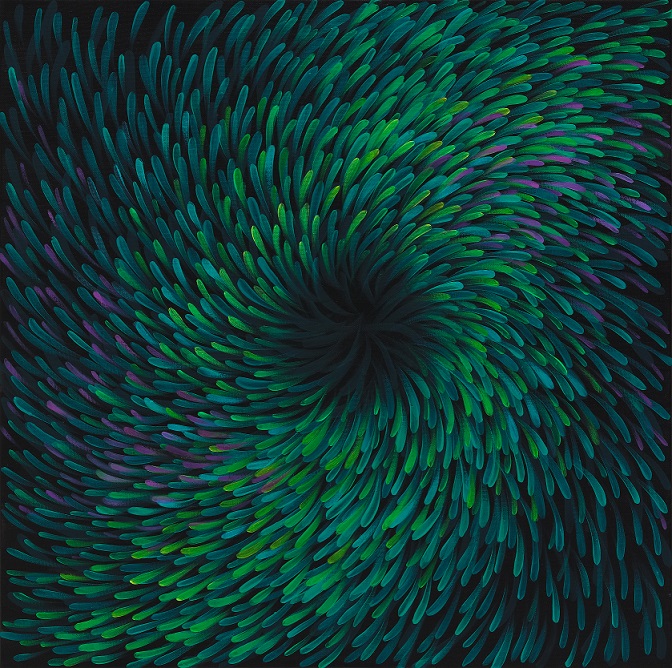 13.Park Hae Keung / Life 1757, 72,9x72,9cm Lenticula 2017
She continues to approach on her inherent philosophical discourse, she may severely adhere to identify of its oddity and lightness of life, through her insight in order to verify the origin of aesthetic view,
even likely to portray what is real shape and substance of it...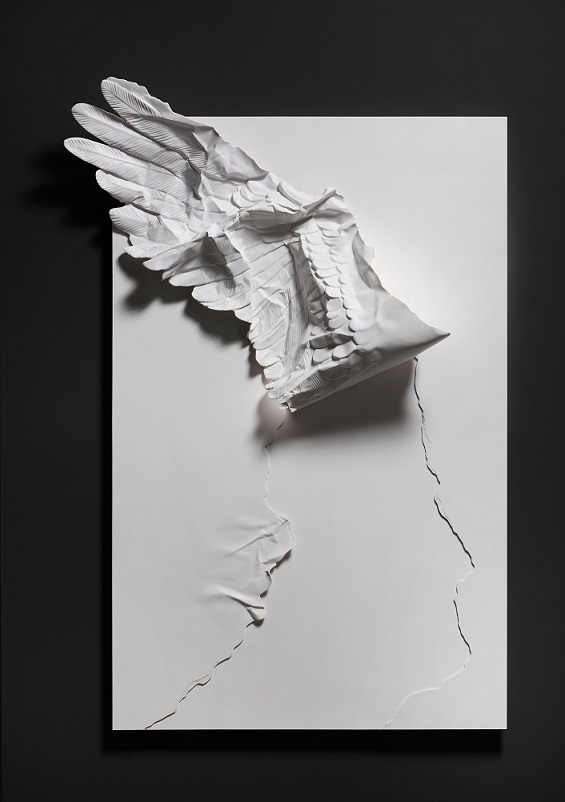 14. Kim Won Yong / Moment, 83x100x28cm, Urethan, galcoat on board 2017
He already obtained a distinguish method formally from the content too, simultaneously he is showing up the possibility of the optimal method with his own that growing up the exquisiteness and the density, he digs up delicate texture of the reminiscence, sometime to call sadness, thrilling, vanity, pureness etc...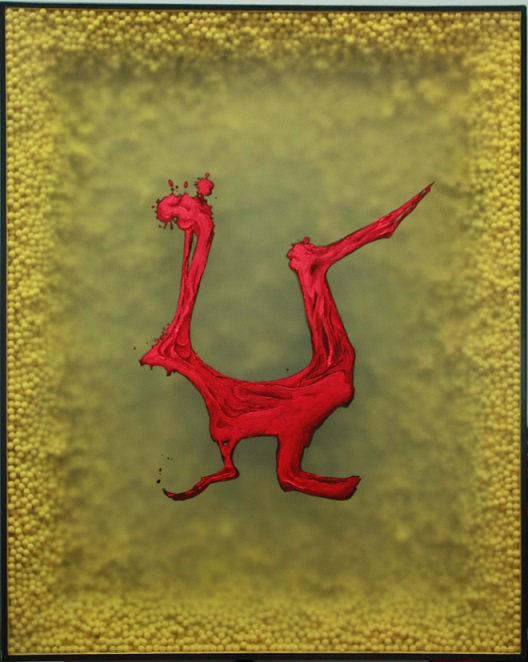 15.Park Young Yul / Untitled-1, 75x93cm 2c, Mixed media 2017
He strives to be deviated from the last methodical thinking- stereo type, in order to get a provocative way on canvas by changing, and alter his mind,it's very important sort of experimental artistic spirit,consciousness, it's a crucial thing for those artists who fatefully should find out something a newness consistently for better their artworks...beyond the soul...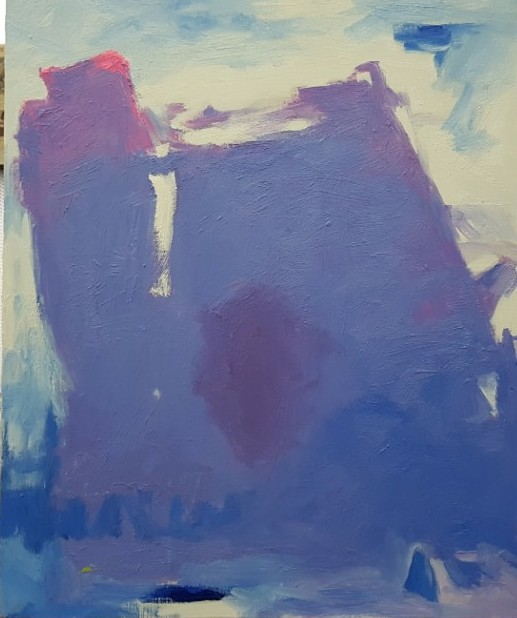 16.Park Eun Ae / Pur -1 53x45,5cm, Oil on canvas 2017
" I can see the colour when I stand before white canvas, she says that ahead if I would paint the colours, instantly following colour calls me. Could be that easy ? ....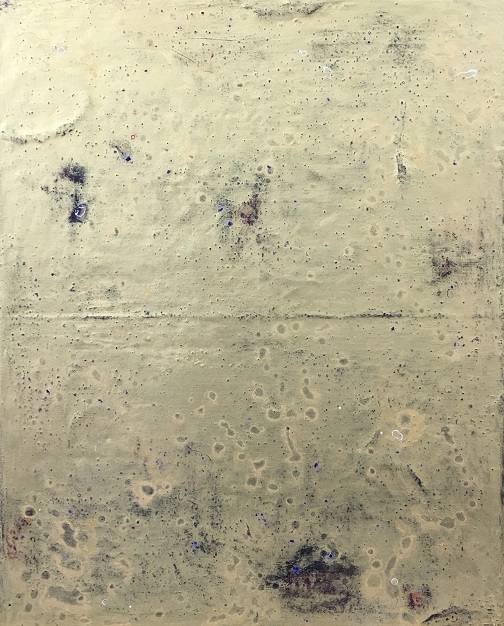 17.Kim Keun Joong / Untitled-1, 72x98cm, Acrylic, mixed media on canvas 2017
My work is a contemplation in terms of being by looking through the inner consciousness upon artists. The scene was to be embodied from the world of beings comes out the features and subtle traces of inner mind through a process by layering many times with stone power in making of some matiere and painting on the surface by pigment several times and work again take them off....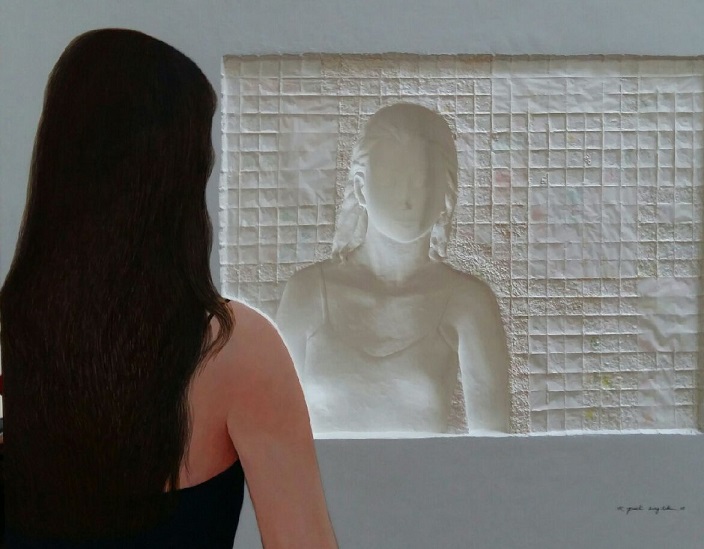 18. Park Sung Sik / Ego-Man, 78x94cm, Acrylic Paint, papers,plaster cast 2017
He is intensively to experimentation and keep substantial asking to 'who I am' in regarding to a being of human. By his drawing and sculptural manufacturing with exquisite hand that eventually coms to an end for the illusion of oneself...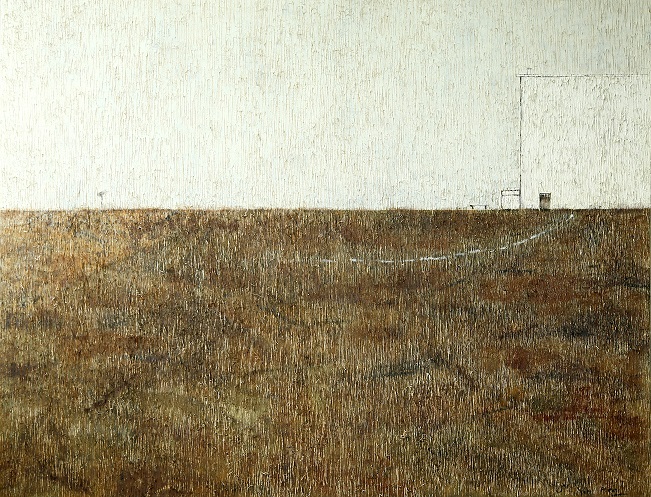 19.Sohn Jin Hee / The way, 97x70cm, Oil on canvas with cutting scratch on board 2017
Particularly, she intentionally makes a tiny scratched injury to the surface on canvas. Hence, it appears untouchable effect all over unique surface on it subtle textures and embossing effect as well, s

imultaneously they are served a placement by an acclaimed philosophical issue...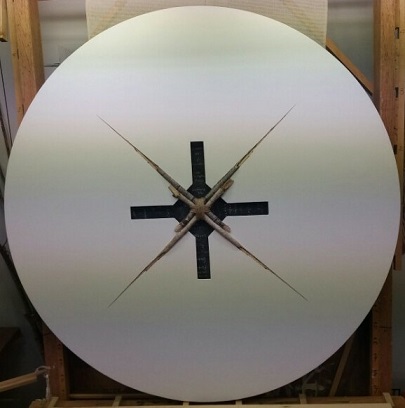 20. Kim Kwan Soo / Birch, 90 diameter, drawing with birch knot on canvas 2017
The white birch tree never returns to innocent. I hope for approaching to the present subject in low with somewhat fishy than the truth that has been defined in the realm of civilization.
His consciousness obviously towards contemporary way with exculsive, and unique method, methaphor between realistic and artificial, however, remains somewhat acclaim for borrowing from the old fashion of object and conceptualism......
The special exhibition of 'Artkorea
London 2018' is consecutively co- organized by Le Dame Art Gallery and IACO Korea in working with supports and efforts, that would be the 'Global Platform' in UK,because of having a significant art event in order to showcasing for the latest prominant Korean contemporary art by displaying the works at the heart of London in contemporary art while reflecting the spiritual values and its uniqueness with singularity and mysterious contemplation,which supported by Le Dame Art Gallery is one of well known gallery across the internationally. It therefore will always be the new chapter among Korean cotemporary art history caused by featuring a large range of artworks over 70 pieces in London.
Particlarly, in this year, it is a fabulous exhibition that will take place in accordance with " Pyungcang Winter Olympic 2018 Korea" at the same season, therefore we convince that there must be more significant art show with a fruitful success.
IACO
l Participating Artists l Featuring Works
1.박시유/ Park, Si Yu
2.김수진/ Kim, Su Jin
3.김진남/ Kim, Jin Nam
4.구상희/ Koo, Sang Hee
5.호 진/ Ho, Jin
6.허 청/ Huh, Chung
7.이 승/. Lee, Seoung
8.최명희/ Choi, Myung Hee
9.이익렬/ Lee,Ik Ryeol
10.한영숙/ Han, Young Sook
11.김성혜/ Kim, Sung Hye
12.조경호/. Cho, Kyoung Ho
13.박혜경/ Park, Hae Keung
14.김원용/ Kim, Won Yong
15.박영율/ Park, Young Yul
16.박은애/ Park, Eun Ae
17.김근중/.Kim, Keun Joong
18.박성식/ Park, Sung Sik
19.손진희/ Sohn,Jin Hee
20.김관수/ Kim. Kwan Soo