Review-
ArtKorea London 2018
3rd Showcase Exhibition of Korean Contemporary Artworks by Le Dame Gallery, London UK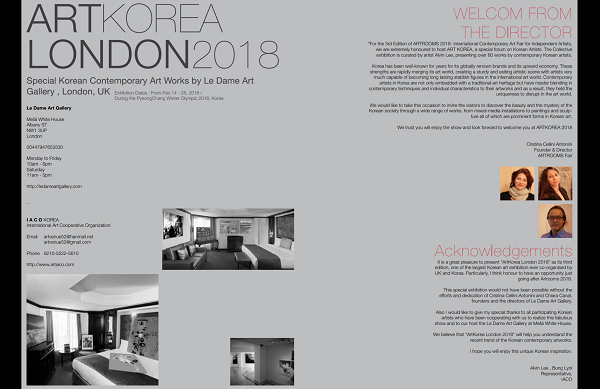 IACO presents 'the 3rd editions of Artkorea London 2018' continously for the fabulous Korean uniqueness of Korean contemporary artworks over 60 brilliant pieces at Le Dame Gallery,London UK which will be a great opportunity to the audience in London by reflecting of oriental contemplation and subtle difference from western by running 15 days, simultaneously through such an exclusive platform for Korean showcase artworks would be contributed to boost the vibrant art activities on global stage as well.Obviously the Korea contemporary art will be shown its identity and profound asethetic views which make you feel some awesome and wonder came from inherent the oriental epic that contained metaphysical words, all sorts of genres neverthless abstract or concrete artworks beyond the trends.
Recently the Korean artists who has exceptionally most wide action at the global stage among Asian artists, particularly at the international art fairs by exposing their brilliant artworks with a powerful creativity frequently, and both in making new strategic plan by discovering emerging art markets globally and challenging to become the top class artists by their authentic spirit with uniqueness and transcend contemplation by their thoughts.
Therefore, this consecutive art event is a sort of strategic showcase event in order to stand out the recent Korean contemporary art to the audience in London as a platform for building the reputation and marketing, which is eventually a method of extending their fabulous artworks to the world with prominent point by aesthetic view in bridge the gab of disparity in advanced art and culture for mutual benefit between east and west, where we need to activate the Europe market for Korean contemporary art as a strategic position.
Through this exhibition,we'll continue to try our efforts further development of Korean art at London UK, where because of mecca of contemporary art in the world. Lastly IACO and we all truely thank to helpful by Crisitina, founfer of Ledame gallery, hope for long standing relationships between us.
Co- Organizing
Le Dame Art Gallery/ Cristina Cellini Antonini, Director, UK
I A C O / Alvin Lee Bung Lyol, Director, Korea
Supports
Melia white House
Participating Artists
1. Park, Si Yu- 박시유
2. Kim, Su Jin- 박수진
3. Kim, Jin Nam- 김진남
4. Koo, Sang Hee- 구상희
5. Ho, Jin- 호 진
6. Huh, Chung- 허 청
7. Lee, Seoung- 이 승
8. Choi, Myung Hee- 최명희
9. Lee, Ik Ryeol- 이익렬
10. Han,Young Sook-한명숙
11. Kim Sung Hye- 김성혜
12. Cho, Kyoung Ho- 조경호
13. Park, Hae Keung-박혜경
14. Kim, Won Yong- 김원용
15. Park, Young Yul- 박영율
16. Park, Eun Ae- 박은애
17. Kim, Keun Joong-김근중
18. Park, Sung Sik- 박성식
19. Sohn, Jin Hee- 손진희
20. Kim, Kwan Soo- 김관수
I A C O -International Art Cooperative Oganization
국제미술협력기구 Art Lab 제공